Education and awareness vital to end domestic violence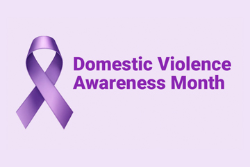 10/12/2021 
October is Domestic Violence Awareness month and with it comes the time to share knowledge about how to prevent dating and domestic violence.
Members of SUNY Cortland's It's On Us Action Team will join the student club, Students Active for Ending Rape (SAFER), to raise awareness about interpersonal violence and offer resources to individuals seeking support. The team, comprised of students, faculty and staff, also will show support for the many survivors of sexual and domestic violence.
The annual Take Back the Night March is set for Wednesday, Oct. 27. The mission is to take direct action against rape and actively fight to end sexual and domestic violence in all forms. Keynote speakers include Distinguished Teaching Professor of English Karla Alwes and senior Ally Hall '22, who plans to share her personal story as well as the steps she's taken to take back control of her life and prosper. A ceremony at Corey Union steps will begin at 7 p.m. and the march around campus will follow at 8:30 p.m.
Details will be posted on SAFER's Instagram account and through the hashtag #takebackthenight2021.
The It's On Us Action Team often collaborates with various offices on campus including Title IX, Residence Life and Housing, University Police Department and Health Promotions as well as SAFER to present programs related to dating and domestic violence. The team also works closely with advocates from the YWCA's Aids to Victims of Violence program, a community resource available to anyone impacted by domestic violence.
Earlier this month the university held a Tie Dye Thursday and Self-Defense Empowerment event to bring awareness to this important issue.
Individuals wishing to make a report of dating or domestic violence can contact Title IX coordinator Maggie Wetter by email or at 607-753-4550.
The color purple and the symbolic purple ribbons are used to raise awareness about the crime of domestic violence, and to remember and honor loved ones who have lost their lives at the hands of a person they once loved and trusted.  
The university joins the national campaign sending a powerful message that there is no place for domestic violence in our community. Purple lights shine at the three entrances throughout the month of October. The entrances are located at Court Street, Route 13 and Route 281. The awareness campaign also will include social media and posters on the visual messaging boards.
"The It's On Us Action Team demonstrates to our campus community that it takes more than a single individual, office or department to address sexual or domestic violence," said Jonah Reardon '13, deputy Title IX coordinator for investigations and training.
"Each year, we see more students, faculty and staff join the conversation and we are always looking for more individuals to participate in our prevention efforts. Any members of our community are welcomed to be a part of the Action Team."
Information about the "It's On US" Action team or Campus Entrance Lighting Change can be found on SUNY Cortland's website. 
Aid to Victims of Violence with the YWCA Cortland has several events planned. They are listed on its website.
---

https://www2.cortland.edu/news/detail.dot?id=8dface2e-a271-4e28-826e-4a8de30dd15d