Hendrix Alum Named EDUCAUSE Rising Star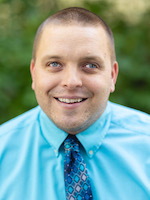 CONWAY, Ark. (October 26, 2021) — Working
for a prestigious Ivy League school, Hendrix College alumnus Kyle Shachmut
develops tools to benefit not only students with disabilities who attend
classes on that campus, but also a growing number of learners who will never
visit there. 




The 2006 Hendrix graduate has become one
of the nation's top experts in digital accessibility for students with
disabilities, and this week will be honored with the 2021 EDUCAUSE Rising Star Award in recognition for his exceptional
leadership in that field.



Shachmut works at Harvard University,
where he serves as assistant director of digital accessibility services, helping
to create more accessible learning environments. He majored in
interdisciplinary studies with a minor in classics at Hendrix, joined Harvard
in 2015 as a project manager for accessibility, and went on to help grow a
department that now reaches millions of students. 



"I'm grateful to have been recognized by
EDUCAUSE with this award and the spotlight it places on the importance of
digital inclusion in education today," Shachmut said. "I'm proud of the work I
get to do every day with teammates at Harvard and beyond.
"Technology can be such a great enabler, and it can also be a means of exclusion if accessibility is not considered by those who build or buy electronic resources. I've certainly experienced barriers along the way," said Shachmut, who is blind himself. "So many professors and staff worked to bypass challenges and focus on my learning during my time at Hendrix. In retrospect, it helped prepare me for a nascent career I did not envision then. I hope my work helps students face fewer access barriers in the future."
"He does a lot, on and off the job,
working in this area and helping make institutions of higher learning aware of
the steps they can take to make sure their coursework is fully accessible to
all their students, whether they are blind, deaf, or have any of a host of
other disabilities," said Jenny Armstrong Boulden '95, Shachmut's sister-in-law.
"It's important stuff."



Shachmut's leadership of the Digital
Accessibility Services (DAS) Team at Harvard grew out of his early project
management roles, such as integrating accessibility features into Massive Open
Online Courses (MOOCs) and inviting community members with disabilities to test
product platforms under development. The DAS Team has become a model for other
higher education institutions seeking to increase accessibility. Shachmut has
contributed articles on accessibility in higher education to The Boston
Globe, The Chronicle of Higher Education, and Inside Higher Ed,
and is considered a leading expert in digital accessibility.



A Conway native, Shachmut grew up as a
Hendrix staff kid; his dad, Jeff, worked for more than two decades as director
of student affairs. When he became a student, he met his future wife, Laura
Armstrong Shachmut '05; they now live in the Boston area with their three daughters.



EDUCAUSE, a national nonprofit with more
than 100,000 members (including Hendrix), works to advance higher education
through the use of information technology. Shachmut will accept the award at
the EDUCAUSE annual meeting in Philadelphia later this week.
About Hendrix College
A private liberal arts college in Conway,
Arkansas, Hendrix College consistently earns recognition as one of the
country's leading liberal arts institutions and is featured in Colleges
That Change Lives: 40 Schools That Will Change the Way You Think About Colleges.
Its academic quality and rigor, innovation, and value have established Hendrix
as a fixture in numerous college guides, lists, and rankings. Founded in 1876,
Hendrix has been affiliated with the United Methodist Church since 1884. To
learn more, visit www.hendrix.edu.

https://www.hendrix.edu/Shachmut-named-EDUCAUSE-rising-star/