Pike Twp. schools calling for e-learning day Monday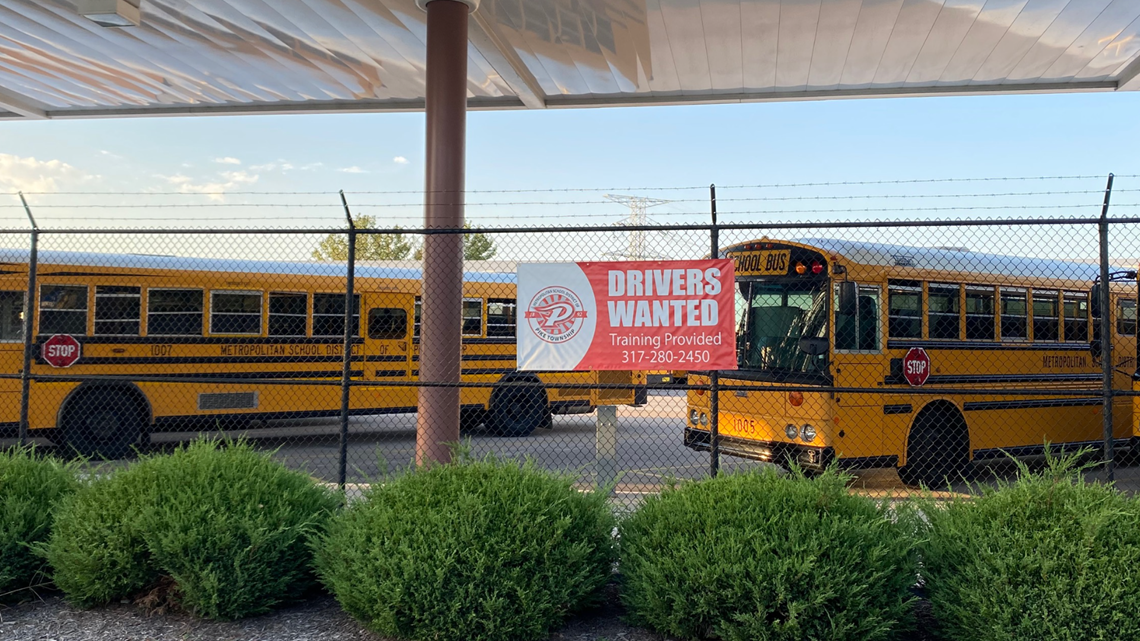 After two days of remote learning, Pike Township Schools said they plan to resume in-person instruction on Wednesday.
INDIANAPOLIS — Pike Township School officials plan to resume in-person classes on Wednesday. 
The district said after talking to bus drivers they believe it will be possible to provide transportation for students.
The district said it is important to note that in most instances, they do not know that an employee will be out until they call in to report their absence that morning.
Pike Township schools transitioned to e-learning on Monday and Tuesday after not having enough bus drivers for all its routes.
The district said it's due to a universal shortage, planned medical leave and illness-related absences. But a group of bus drivers for the district said there is another side to the story.  
"They just don't care about us. They don't care how we are living. They just want us to come in and do our job," said an MSD of Pike Township bus driver who wanted to remain anonymous. 
13News was contacted by some of the drivers involved. They didn't want to be identified or go on camera, but shared they organized a "strike" Monday due to low pay, lack of benefits and safety concerns. The group of more than a dozen drivers called off work in the morning. 
As a result of their absences, the district was forced to call off class and transition to in-person learning on Monday. 
"Due to circumstances beyond our control," read the district's message, "the MSD of Pike Township will have an e-learning day today, September 27, 2021. Instruction will be provided following the same daily schedule via Zoom and on Canvas. Instructional, office, and custodial staff should report to work as usual. There will be no Loving Care."
The district made the announcement on social media shortly after 5:30 a.m. Monday.
Some of the drivers said that they are struggling to make ends meet and that finding a second job can be difficult with their hours.  
"A lot of us have more than two or three kids and we don't know how to pay rent, or we have to pick a bill to pay. Last month, it was either my light bill or my car insurance," said an MSD of Pike Township bus driver who wanted to remain anonymous. 
In comments on a Facebook post, the district said bus drivers have not received a pay cut and "make between $20.00 and $23.60 per hour, which is comparable to other districts. They also receive benefits, which are regularly considered the best available." 
Many parents were frustrated with the last-minute notification and having to scramble to find childcare.  
On Friday, Sept. 24, the district had to reschedule 10 bus routes due to a driver shortage, and some students were told they would be picked up more than two hours after their normal time, according to district communication.
A district spokesperson told 13News that drivers did not indicate why they were absent on Friday. "We do know that a few weeks ago there was some confusion expressed regarding the pandemic stipends, which [drivers] received [Friday]," said Sarah Dorsey, the district's communications officer. "To the best of our knowledge, that issue has been resolved. We value our drivers immensely and appreciate the essential service they provide for our students and look forward to working directly with any drivers who may have concerns."
"It's hard when you are relying on school and the bus and those things are no longer available last minute," said Amber Griffey, a Pike Township parent. 
Griffey has a high school daughter in the special education program. She said she is lucky that her daughter adjusts to the changes, but knows not every student does.  
"I think for parents it's the frustration that we've gotten back to somewhat of a 'normal,' then this happens. So, everybody has a little PTSD when it comes to things shutting down," she said.  
The district said a decision for in-person instruction on Wednesday will be made by the end of the day on Tuesday.
Read the full statement from MSD of Pike Township:
"We understand that there have been rumors that our bus drivers are on strike; however, that information has not been shared with us. To the best of our knowledge, the issues we are experiencing are related to planned medical leave, illness-related absences, and the universal bus driver shortage. 
When schools were forced to shut down due to COVID last year, our school board took special action to ensure that our bus drivers and other employees who did not work during the shutdown still received payment. Bus drivers who did work during the COVID-related school building closure received extra compensation. Additionally, bus drivers who were employed during times of transitions from remote to in-person instruction received a pandemic stipend on Friday. 
We understand that this is a hardship for many families and sincerely apologize for the inconvenience. As we navigate the various challenges presented by the pandemic and cold and flu season, our goal will remain to ensure that our students are provided with quality learning experiences as we prioritize the health and safety of our students, staff, and community." 

https://www.wthr.com/article/news/education/pike-township-schools-call-for-e-learning-day-monday/531-5ff2fac6-4612-4cf5-bbe5-f47139bcc2e6