The Importance of Critical Thinking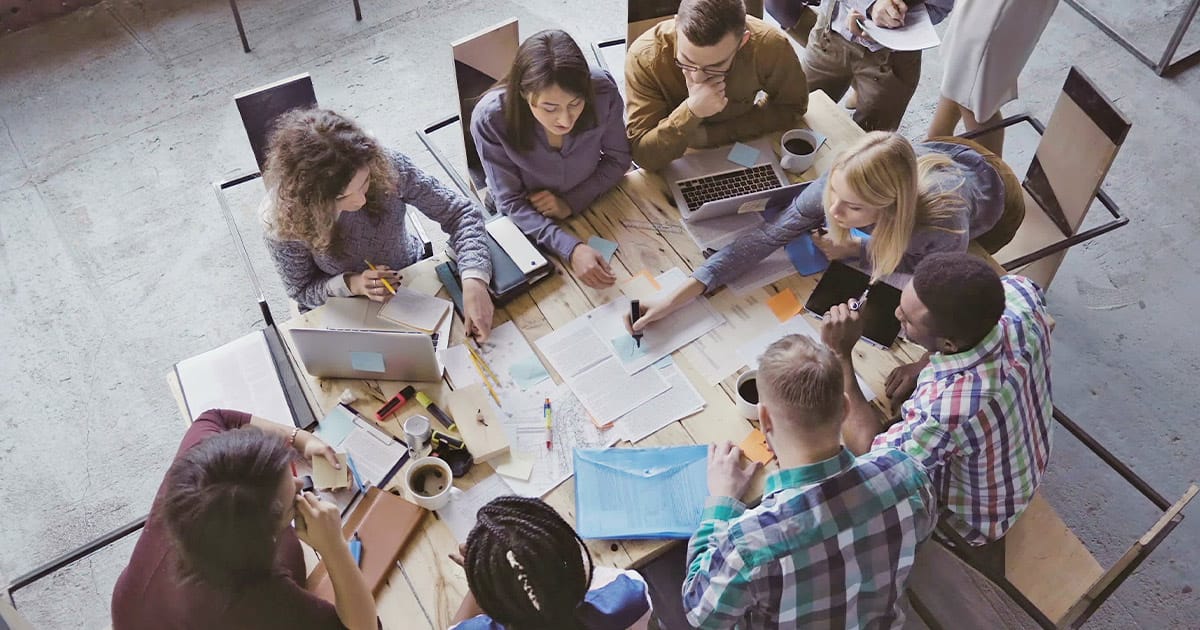 Critical thinking is a vital skill, yet it's often neglected. In higher education, we know the importance of learning objectives that let us measure learner success. Starting with a clear definition of critical thinking allows us to identify the associated skills that we want to imbue in our students and ourselves.
Defining Critical Thinking
According to the Oxford Languages dictionary, critical thinking is "the objective analysis and evaluation of an issue in order to form a judgment." It sounds relatively simple, yet we often form judgments without that all-important objective analysis/evaluation piece.
Employers on the Southern New Hampshire University (SNHU) Social Sciences Advisory Board tell us that they want to hire people with critical thinking skills, but applicants often lack this ability. According to Professor of Science Dr. Norman Herr, critical thinking skills can be boiled down to the following key sequential elements:
Identification of premises and conclusions — Break arguments down into logical statements
Clarification of arguments — Identify ambiguity in these stated assertions
Establishment of facts — Search for contradictions to determine if an argument or theory is complete and reasonable
Evaluation of logic — Use inductive or deductive reasoning to decide if conclusions drawn are adequately supported
Final evaluation — Weigh the arguments against the evidence presented
As educators, we must teach our students those critical thinking skills and practice them ourselves to objectively analyze an onslaught of information. Ideas, especially plausible-sounding philosophies, should be challenged and pass the credibility litmus test.
Red Flag Alert
The School Library Journal lists four types of information that should raise red flags when we're watching the news, reading social media, or at any point in our everyday lives when we are confronted with something purported to be "fact:"
Fake news, which refers to purported news that is demonstrably untrue.
Misinformation, which is spread by those who don't realize that it's false or only partially true.
Disinformation, which is deliberately spread by people who know that it's not accurate and who want to spread a false message.
Propaganda, which is information that is spread with a specific agenda. It may or may not be false, but it's intended to get an emotional reaction.
Get With the Times
SNHU, and other colleges and universities across the U.S., must use updated tools to help their students think critically about the information they consume. Currently, many institutions of higher learning fail to teach students how to identify misinformation sources. Sam Wineburg and Nadiv Ziv, professors of education at Stanford University, argue that many colleges offer guides to evaluating website trustworthiness, but far too many of them base their advice on a 1998 report on assessing websites. They warn that it makes no sense for colleges to share 20-year-old advice on dealing with the rapidly-changing online landscape, where two decades feels like a century.
Further, as educators in institutions of higher education, we must afford learners as many opportunities as possible to hone their critical thinking skills when interacting with instructors and fellow students. Greg Lukianoff and Johnathan Haidt, authors of The Coddling of the American Mind, contend that "one of the most brilliant features of universities is that, when they are working properly, they are communities of scholars who cancel out one another's confirmation biases." Without exploring opposing viewpoints, students may fall prey to confirmation bias, further cementing ideas that they already believe to be true. Being inclusive when it comes to viewpoint diversity is indispensable for avoiding these echo chambers that circumvent having one's ideas challenged.
Separating Wheat from Chaff: Critical Thinking Examples
As we teach our students the importance of critical thinking, how do we equip them to sift through the onslaught of information they encounter every day, both personally and in their educational pursuits? And how do we do the same for ourselves?
Here are four critical thinking examples that anyone can apply when evaluating information:
Consider whether the person who wrote or is sharing the information has any vested interest in doing so. For example, a writer may have a degree and professional experience that gives them expertise to write an article on specific communication techniques. Be aware that the writer's credibility can be affected by outside interests. These include being paid to write a book with a certain viewpoint, giving paid seminars, affiliation with certain organizations or anything else that creates a financial or personal interest in promoting a specific perspective.
Consider the venue in which the person is sharing the information. Newscasts and newspapers once were slanted more toward neutrality, although there was never an era when bias was completely absent. The 19th century even had its own version of "clickbait" in the form of yellow journalism. Today, it's getting more difficult for those with critical thinking skills to find unbiased sources. Websites like Towards Data Science publish lists rating major sites on their leanings; check these lists to view content on biased sites through a more skeptical lens, verifying their claims for yourself.
Read beyond clickbait headlines. Websites create headlines to generate traffic and ad revenue, not to support critical thinking or give accurate information. Too many people go by what the headline says without reading more deeply, even though media misrepresentation of studies is rampant. Often, the information contained within the article is not accurately represented in the headline. Sometimes there's even a direct contradiction, or the publication is focusing on one single study that may mean nothing because other studies have contradictory results.
Use Snopes, Fact Check, and other fact-checking websites. Ironically, Snopes itself has been the victim of misinformation campaigns designed to discredit its efforts to promote the importance of critical thinking.
Anyone in a teaching position should point their students toward reliable references. For example, at SNHU, instructors can point their students towards the Shapiro Library for their assignments. No matter where you teach, the main objective is to give them opportunities to apply critical thinking skills by evaluating material that they encounter in everyday life. Another way to do this at SNHU or in any online classroom is by incorporating elements of the four points into your announcements, discussion posts and feedback. For example, you might post two articles with differing viewpoints on the week's material. For each, break down the publication's possible slant, the way in which any research-based material is presented and the author's credentials. Hypothetically, ask students whether those factors might be playing into the opinions expressed.
Misinformation Morphs into Disinformation
Misinformation, if not addressed, easily turns into disinformation when it is readily shared by students, individuals and groups that may know it is wrong. They may continue to intentionally spread it to cast doubt or stir divisiveness. Students listen to their peers, and the more critical thinking is addressed in a course, the more we prepare students not to fall into the misinformation trap.
Courtney Brown and Sherrish Holland, of the Center for the Professional Education of Teachers, argue that for educators, the challenge is now far more about how they need to inform their students to interpret and assess the information they come across and not simply how to gain access to it. The term "fake news" is used to discredit anyone trying to clarify fact from fiction. Fake news is a cover for some people when they are being deliberately deceptive. As educators become clearer about the distinction, it can be better communicated to students.
Anyone Can Promote Critical Thinking
Even if you don't teach, use those points in conversations to help others hone their critical thinking skills, along with a dose of emotional intelligence. If someone shares misinformation with you, don't be combative. Instead, use probing statements and questions designed to spark their critical thinking.
Here are some examples:
"That's very interesting. Do you think the person they're quoting might be letting his business interests color what he's saying?"
"I know that sometimes the media oversimplifies research. I wonder who funded that study and if that's influencing what they're saying."
Of course, you need to adapt to the situation and to make what you say sound organic and conversational, but the core idea remains the same. Inspire the other person to use critical thinking skills. Give them reasons to look more deeply into the topic instead of blindly accepting information. Course activities that stimulate interaction and a deep dive into course-related ideas will encourage perspective-taking and foster new avenues of thought along the path to life-long learning. As American cultural anthropologist Margaret Mead said, "Children must be taught how to think, not what to think." While Mead was referring to younger children, this statement is apropos for learners in higher education who are tasked with dissecting volumes of information.
It's crucial to teach our students to question what they read and hear. Jerry Baldasty, provost at the University of Washington, believes that democracies live and die by the ability of their people to access information and engage in robust discussions based upon facts. It is the facts that are being attacked by misinformation. The result is a growing distrust of our core societal institution. People have lost confidence in religious organizations, higher education, government and the media as they believe deliberately deceptive information they come across.
Baldasty argues, "this is why it is crucial that we educate our students how to think critically, access and analyze data, and, above all, question the answers." Students need critical thinking skills for much more than their self-enlightenment. They will become our leaders, politicians, teachers, researchers, advocates, authors, business owners and perhaps most importantly, voters. The more we can imbue them with critical thinking skills, the better.

Dr. Nickolas H. Dominello is an associate dean on the social sciences team, overseeing faculty in the BA in Psychology program at Southern New Hampshire University's Global Campus. He is also a member of the Student Functional Purpose Unit (SFPU). Dr. Dominello completed his doctoral training at Capella University, becoming a Ph.D. in Psychology in September 2013. His research training included a qualitative dissertation titled, "The Lived Experience of Being Betrayed by a Romantic Partner's Online Infidelity: A Phenomenological Investigation." In addition, he has a Master of Arts in Education (Social Science concentration) at the secondary level and has over 16 years of experience working as an educator.

Dr. Barbara Lesniak is an associate dean on the social sciences team at Southern New Hampshire University. She handles the programming side of the undergraduate and graduate psychology programs. Her past experience includes 15 years designing and delivering classroom and web-based courses in the corporate world and providing face-to-face and online counseling services. She specialized in helping online clients in acute crisis situations. Barb is also a freelance writer focusing on financial and personal development topics. She has a PsyD in psychology and completed her MFA at Southern New Hampshire University in 2020.
Dr. Tom MacCarty is an associate dean on the social sciences team and a member of the Student FPU at Southern New Hampshire University. He received his Ph.D. in Industrial/Organizational Psychology from Northcentral University. He also holds a Certificate of Advanced Graduate Studies in School Psychology and a Master of Arts Degree in Counseling Psychology from Norwich University. Dr. MacCarty can be found on LinkedIn.
https://www.snhu.edu/about-us/newsroom/education/importance-of-critical-thinking-skills