Why Cal's Storyline in Sex Education Is So Important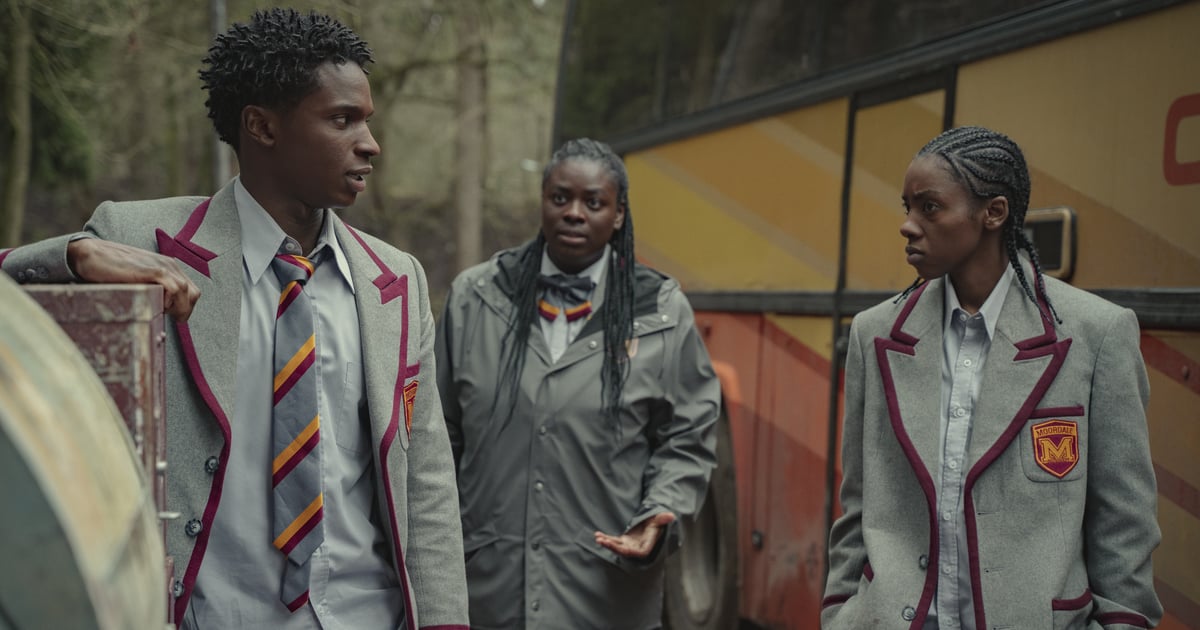 As a nonbinary femme person who has always stressed the importance of LGBTQ+ representation in television and film, I can confidently say that very few shows are better at shifting standards and outsmarting stereotypes than Sex Education. Take, for example, Eric Effiong (Ncuti Gatwa), whose character development is based on the intersection of his religious background, Nigerian/Ghanian roots, and queerness. The show's first nonbinary character, Cal (played by Dua Saleh), is equally fleshed out, which further demonstrates Sex Education's ability to portray queer characters without reducing them to token caricatures or stereotypes.
Just like their character in the show, Saleh is also nonbinary, which gives this portrayal a key layer of authenticity. Not only do we see a queer BIPOC character, but also an actor whose personal identity aligns with their role — something that's unfortunately rare. Having a nonbinary actor like Saleh play Cal makes the character that much more relatable.
Not only do we get a queer actor of color in a high-profile role, but also the actor's personal identity aligns with their character — something we don't always see enough of in queer roles.
Trans and gender nonconforming characters are finally starting to be written more into television and film — albeit often with less depth than their cis counterparts. Cal is the antithesis of this, which is why the character is so engaging. One of Cal's first lines in the show is them casually telling Vivienne and Jackson that their pronouns are they/them. This scene is so nonchalant that I don't view it as a "coming out," as much as Cal saying a basic truth about themselves without caring how their peers will respond. I love that the writers frame it that way.
One particular highlight is Cal's developing relationship with Jackson throughout the season. Jackson is not entirely familiar with queer culture until Cal comes into his life, which is something that a lot of nonbinary folks face in the world of friendship and dating. The labor of educating our peers, families, and significant others often falls on our shoulders, and it can get exhausting. The fact that the writers portray Jackson as a bit confused and Cal as level-headed and strong-willed is refreshing and closer to real life. During an interview with Them, Saleh commented on Cal's empathetic personality, and how it was integral to the queerness of the character.
"Cal is sensitive to perception and to gendered readings from other people, specifically in this scenario," Saleh said. "They're aware of the lack of access to information that Jackson may have. They're aware that they care about Jackson really deeply, but they also are aware that they have to take care of their needs to take care of their spirit. So when they asked Jackson how he perceives them and if Jackson understands what queerness is, in a way, that was Cal taking care of both of them."
Another highlight of Cal's relationship with Jackson is that they both help each other realize that they deserve better than the cards they've been dealt. While Jackson encourages Cal to protest the tyrannical iron grip of the new headmistress of Moordale, Hope Haddon (Jemima Kirke), Cal helps Jackson free himself from the pressures of being head boy. This doesn't feel forced either — they both naturally bring out the best in each other.
I wish I would have seen a character like Cal on television as a kid. If I had, I would have been able to better understand my own skewed relationship with my gender identity growing up.
But the part of Cal's story arc that I find most relatable are the moments when they aren't entirely sure of themself. Pressured to conform to gender norms at school, Cal questions if it's worth the mental anguish to try to validate their existence. As a gender nonconforming person who uses she/they pronouns, I've found that the only people who seem to respect my pronouns are my other queer friends. Older members of my family, and even some of my straight, cisgender friends, have only ever used she/her pronouns to describe me. Even now, I'm still not entirely sure if I am willing to undertake the emotional labor of confronting them about it.
This is why seeing nonbinary characters who get to have moments where they are both confident and vulnerable is so important. I wish I would have seen a character like Cal on television as a kid. If I had, I would have been able to better understand my own skewed relationship with my gender identity growing up.

https://www.popsugar.com/entertainment/why-cal-storyline-in-sex-education-is-so-important-48519987